eManage ERP Software

"For the name of the game is Time-to-market, the idea being to get there first"

eManage Enterprise resource planning is managing each enterprise's resource systematically with more e-sophisticated way to obtain core objectives of the enterprise. Hence, Enterprise Resource Planning is core of e-business solutions and the first step to be an e-intelligent enterprise.
ERP Modules:
eManage Financial Management
eManage Purchase/Procurement
eManage Inventory Management
eManage Sales Management
eManage Human Resources
eManage Production System
eManage Project Management
eManage Cost Management
eManage Quality Management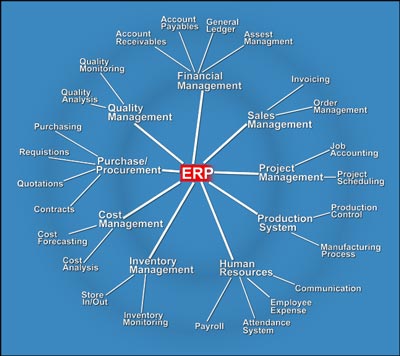 eManage ERP Benefits:
Enhance efficiency at every stage.
Establish adaptable, efficient, collaborative relations.
Ensure deliveries on time, every time.
Free up skilled employees.
Find the right information.
Manage and control changes.
Streamline human resources and reduce administrative costs.
Create standard and legal reports.
Monitor performance of each resource individually.
Access information anytime, anywhere.
eManage Financial Management
General Ledger
As the heart of your organization's financial accounting, General Ledger does more than store debit and credit records. This invaluable tool provides enhanced financial reporting capabilities, including cross-unit consolidations, automated allocations, user-defined accounts and unlimited ledgers. This application will provide the functionality and flexibility to streamline your accounting processes.

Accounts Receivables
A/R is both an accounts receivable and a credit management system. It gives you all the current and historical facts about any customer or group of customers, worldwide. In addition, this module helps minimize the cost of receivables management, improve cash flow, optimize credit risk, and enhance customer service.

Accounts Payable
A/P automates your accounts payable processes by minimizing manual intervention while maintaining control over the accuracy of vendor payments. Comprehensive reporting tools and easy access to vendor performance helps facilitate effective decision-making and results in timely vendor payments and reduced processing costs for your organization.

Asset Management
This powerful asset management application integrates your equipment and property asset information with other components of your financial system. As a result, you'll have instant access to both financial and physical information about your fixed assets and more effective control of asset capitalization, depreciation, and regulatory adjustments.

eManage Purchase/Procurement
Purchasing
Automated access to your supplier network will enable procurement personnel to efficiently purchase production and non-production materials. Additional functionality includes accurately identifying purchasing requirements and delivering purchase orders electronically.
Requisitions
Employees have access to multiple suppliers' catalogs and easy to use web-based requisitioning applications via the company's Intranet. From their desktop, employees can access up-to-date prices and availability and have requisitions automatically routed to the managers for approval.
Quotations
Electronically capture and retain quotes on products and services. Easily access and analyze vendor quotes, reducing the administrative component of managing the bidding process.
Contracts
More effectively manage your vendor contracts with easy access to preferred vendor lists and the terms of their services. Electronically store current contracts and enterprise contract templates.
eManage Inventory Management
Store In/out
Maintain records of raw materials and finished goods checked in or out from store, date of dispatch and appropriate scheduling of finished goods to different sale terminals.
Monitor Inventory
Maintain minimum stock on every sale terminal by monitoring utilization of inventory at each place.
eManage Sales Management
Invoicing
Create an invoicing system that mirrors your operations. Automatically generate bills, simplify billing adjustments and automate the customer maintenance process.
Order Management
Streamline order management with online product catalogs and order entry. Automate commission calculation and shipping schedules. Accurately track return orders.
eManage Human Resources
Payroll
A versatile solution that enables you to automatically gather salary and benefit deduction data and export it directly to your payroll system.
Employee Expense
This application will enable you to effectively manage employee expenses by improving visibility to transactions and streamlining the approval process for advances and expenses.
Attendance System
This application can be integrated with third party automatic attendance system to get automatic salary calculation and employee attendance record in our custom developed system.
Communication
These days intra-communication between employees is becoming very important to work together and make it a collaborative environment.
Click Here to get more information.
eManage Production System
Production Control
More effectively manage your production processes. Schedule production to optimize factory resources. Accurately plan production based on available materials, capacity and inventor.
Manufacturing Process
More effectively monitor and control the manufacturing process.Streamline the manufacturing process by tracking and validating changes in order to speed up the execution of engineering processes and calculate time-cost for every stage of manufacturing process.
eManage Project Management
Job Accounting
It provides you with more control and better management of the projects that impact your bottom line. This integrated system minimizes inefficient data entry, streamlines the addition and maintenance of projects, and provides continuous updating of project status, project schedules, and costs.
Project Scheduling
Schedule and manage projects according to their delivery dates by pre-emptive and non-pre-emptive tasks according to their priority to get the best utilization of time and machines.
Do quantitative analysis like :
MTBF=MTTF + MTTR and Availability = [ MTTF/ (MTTF + MTTR)] * 100%

MTBF - Mean time between failure
MTTF - Mean time to failure
MTTR - Mean time to repair
eManage Cost Management
Cost Analysis
Do the product costing by analyzing cost of each stage of manufacturing process , stock evaluations and raw materials.
Cost Forecasting
Take active control of your costs by enabling your employees to share vital information in order to more accurately forecast, research and development costing, adapt to customer demands, and streamline processes.
eManage Quality Management
Quality Analysis
Quality analysis allows your manufacturing personnel to capture and share critical quality information. You will improve quality analysis and reporting, identify and control costs associated with quality issues, and address quality concerns using real-time data.
Quality Monitoring
Quality monitoring allows to monitor required quality according to the quality standards like ISO standards and maintain it throughout the organization in years to come.